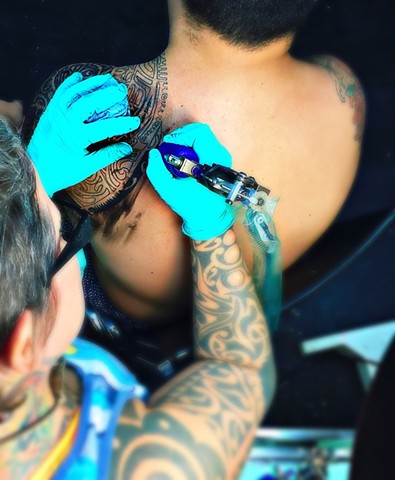 Instagram : kimdurhamtattoo
shop IG: moabtattoo
I am currently taking appointments and clients in Moab, Utah at Moab Tattoo
Several times a year I take clients by appointment in Los Angeles.
For appointments or consultations: Text 435-260-9014 or email kim@kimdurhamtattoo.com
MOAB TATTOO
550 N. MAIN ST. # F
Moab, UT 84530
For consultation appointments please bring all reference materials, ideas, sketches etc. and know that I will be taking a deposit to schedule a tattoo appointment in order to begin drawings.
Good tattoos take time, please plan ahead. I do travel often for work, please email or text for availability and scheduling.


Bio:
Kim Durham began her tattooing career in Houston, Texas in 1993. She finished her tattooing apprenticeship in 1994. Kim moved to Arizona where she owned and operated Ultimate Art Tattoo Studio in Tempe, AZ. She then moved to Los Angeles in 2000, where she lived and worked until 2017. Since 2017, she has been working primarily out of Moab, Utah and works in L.A. a few times a year by appointment.
Kim's work explores her passion for traditional American, Asian and Southeast Asian iconography. Loves doing Graphic Patterns, Geometric and dot work, traditional Polynesian, traditional Japanese, intricate line work and lettering tattoos as well as many other styles of work. She particularly enjoys Japanese,Chinese, Persian, Tibetan, Hindu, Khmer, Laotian,Burmese, Thai and Pacific Islander art and the traditional tattooing from those regions. She has traveled throughout Asia, Europe, Mexico, South America and many other places around the world and developed first-hand knowledge of indigenous and tribal peoples, their art, and their body modification rituals.
She is Blood Bourne Pathogen Certified and Licensed by the County of Los Angeles and the State of Utah. Her sterilization methods and safety practices consistently exceed industry standards. When she is not tattooing in Los Angeles or Moab, Kim is traveling, rafting, paddle boarding, canyoneering, riding motorcycles, taking photographs, collecting books, sailing, surfing and diving, fishing, skiing...